Corporate events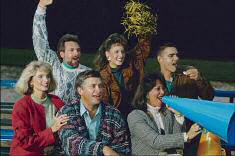 Examples of content
Here are some examples of types of corporate events, and the appropriate design of event.
It is part of the annual "reward" for staff.
If so, you should design an event that is:
fun, fairly active but not too stressful
has plenty of variety, so staff can choose from various optional events
is at a good quality conference centre/hotel where staff are treated well, or even "spoilt"
if you have the budget, offer places to partners and spouses to thank them for their support (if budget is limited, considering inviting spouses just to the evening meal, or if budgets are more limited still, give every member of staff two vouchers for the cinema).
You want to improve staff-management communications.
If so, then you should:
use a mixture of multimedia, presentations and small group work to disseminate information
provide opportunities for interaction and feedback (eg: Q and A sessions with management, where questions can be submitted on paper and put to management by the event compere)
retain interest and variety - note that the typical maximum time that people can listen is 20 minutes, at which point they need to do something different.
avoid at all costs the most common mistake - a string of presentations: they only satisfy the managers' own need to talk, bore the pants off the staff, and are therefore ineffective in achieving the goal of communication.
You want to improve cross-organisation relationships.
To overcome the barriers between "team islands" you need to:
Where possible, remove any 'markers' (things associated with individuals) that distinguish one team island from another. Eg: if management wear suits and staff are dressed more casually, this helps contribute to an attitude of "them and us".
Where possible, remove any 'boundaries' (things in the environment) that separate one group from another. Eg: if management sit at one table to eat, and staff at another, this creates two geographical areas with implied boundaries.
Group people together in activities to build relationships across the different team islands.Eg: if you have an activity or social event, don't let people congregate into groups naturally, as they will stick with people they know (usually inside their team island). Rather, split them up, either by producing lists of teams, or by giving people coloured T-shirts (ensuring there is a mix of staff, management and grades within each coloured group).
Establish commonalities that transcend team islands: eg: commonalities of corporate objectives, or experiences on the day, or everyone having the same souvenir from the day, and building a single corporate identity that encompasses all the organisational team islands.
Return to Corporate Events main article